NFL Stats Spreadsheet 2015
Downloadable 2015 NFL Stats Spreadsheet
Use this spreadsheet to prepare for your fantasy football draft!
2014 Historical NFL Stats
2015 Projected Fantasy Stats with Yahoo! and FantasyPros rankings!
Enter your own fantasy football league's scoring settings!
New stats this year: 1st Downs & Targets
Injury notes (updated Sep 3)
Stats added last year: Games Played, Sacks Taken, Total Fumbles.
Links to Yahoo! Sports Player Profiles
Movers & Shakers: Projection change since the last update
NFL Schedule Grid, Strength of Schedule & Bye Week Quick Reference
Screenshot of the NFL stats Excel cheat sheet: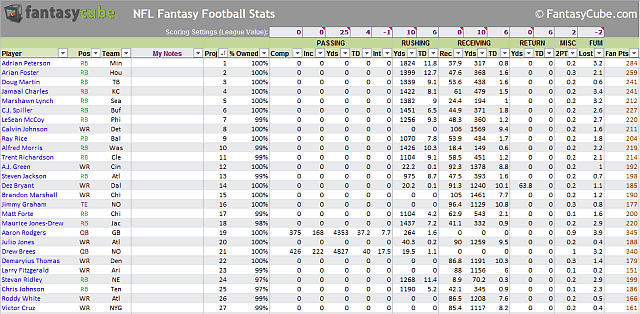 Projections from freely available sources including Yahoo!, ESPN, Fox Sports and CBS Sports.
***** Change Log ***** (Join the mailing list to be first to be notified of updates)
2015-09-03 Final update of the season
– Projections updated. You might want to make a note on Tom Brady, my sources haven't reflected his new status.
– PPG column added
– Injury notes and rankings updated
– Triple checked the bye weeks 🙂
2015-08-31 Minor update.
– Fixed bye weeks. Gremlins!
2015-08-29 Minor update.
– Removed a link to an external spreadsheet that shouldn't have been there. So minor I didn't change the filename.
2015-08-28 Updated projection stats and rankings.
– Added injury notes. Added players Fixed player bye weeks.
2015-08-12 First release of the 2015 season
– Initial release for the coming 2015/16 year with 2014 season stats.