NFL Stats Spreadsheet 2014
Downloadable 2014 NFL Stats Spreadsheet
Use this spreadsheet to prepare for your fantasy football draft!
2013 Historical NFL Stats
2014 Projected Fantasy Stats Updated 8/24 with FantasyPros ECR
Enter your own fantasy football league's scoring settings!
New stats this year: Sacks Taken & Total Fumbles
Added 8/20: Games Played & Games Started
Links to Yahoo! Sports Player Profiles
Movers & Shakers: Projection change since the last update
NFL Schedule Grid, Strength of Schedule & Bye Week Quick Reference
Screenshot of the NFL stats Excel worksheet: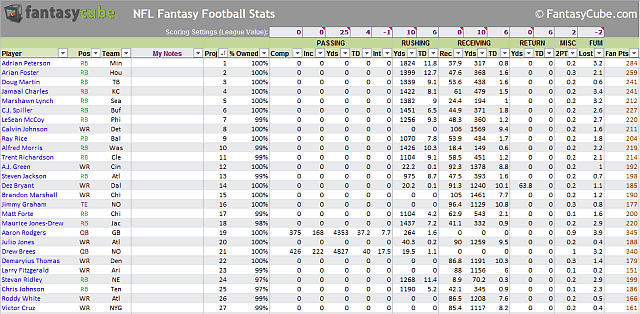 Projections from freely available sources including Yahoo!, ESPN, Fox Sports and CBS Sports.
***** Change Log *****
2014-08-24 Rankings Update
– Updated FantasyPros Projections (Standard & PPR) using ECR (Expert Consensus Ranking), since that's what everyone is using these days (versus my previous preference, Top 20 2013 Draft). With ECR, QB's drop several rankings. Also set the prior rankings to the same as it doesn't make sense to compare two different types of rankings.
– Yahoo! projections and % Owned have not changed, looks like their database doesn't update very often! (to be fair, their rankings are from Pro Football Focus)
Download Fantasy Football Stats 2014 – Offense (FantasyCube.com) 20140824.zip
2014-08-20 A BIG Update
– Updated Yahoo! and Consensus Projections, with delta change since June 19th's update. Projections take a LONG time to update, thanks for your patience 🙂
– Added 2013 Games Played & Games Started (source: Pro Football Reference. This was quite a task as PFR lists the player under their 2013 team, and for players who were traded midseason, the team name shows as 2TM!)
– Added Points Per Game Played to 2013 Historical Stats.
– Updated Yahoo! % Owned
– Added a few basic player notes (injuries, rookies). Sorry if I missed any, it's not meant to be a comprehensive list.
– Added the following players who are now ranked in the top 300: A. Williams, C. Michael, R. Hillman, K. Britt, A. Holmes, A. Hawkins, C. Polk, J. Grimes, B. Brown, L. Dunbar, T. Underwood
– A commenter asked how to update their spreadsheets after an update. I've tried to make it easy this time by leaving the players in the same rows. Any player that dropped out of the top 300 have been given a ranking of 300 but remain on the list for this reason. I also didn't re-sort, so you don't have to do any VLOOKUP's to update your own customized sheets, just copy and paste. This might result in some season ending injuries staying on the list. If this is your first time using the spreadsheet, ignore this and sort by Y! Projections.
– Apologies for not having full player names this year, my main data source cuts them off when I add all the stat columns.
– Removed all affiliate ads and added a donate button. If you can't donate, please share & Tweet this or in the comments.
Download Fantasy Football Stats 2014 – Offense (FantasyCube.com) 20140820.zip
2014-07-28
– Maintenance release. Calculation now set to Auto (somehow it got set to manual, so F9 was needed to recalculate)
Download Fantasy Football Stats 2014 – Offense (FantasyCube.com) 20140728.zip
2014-06-29
– Initial release for the coming 2014/15 year with 2013 season stats.
Download Fantasy Football Stats 2014 – Offense (FantasyCube.com) 20140629.zip