NFL Stats Spreadsheet 2013
Downloadable 2013 NFL Stats Spreadsheet
** Updated August 29th with games played, bye weeks, updated projections, and more! (see change log below)**
Use this spreadsheet to prepare for your fantasy football draft!
2013 Projected Fantasy Stats
2012 Historical NFL Stats (w/ GP & byes)
Enter your own fantasy football league's scoring settings!
Links to Yahoo! Sports Player Profiles
Movers & Shakers: Projection change since the last update
Filter by position
Create your own notes
NFL Schedule Grid and Bye Week Quick Reference
Strength of Schedule
Screenshot of the NFL stats Excel worksheet: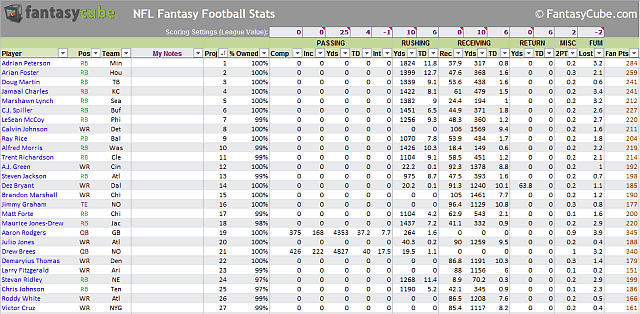 Projections from freely available sources including Yahoo!, ESPN, Fox Sports and CBS Sports.
***** Change Log *****
2013/08/29
– Fixed the bye weeks. The 2012 schedule snuck in there on the last update. Sorry! (Thx Ngan for pointing this out)
2013/08/28
– Re-uploaded due to caching issue, and fixed one player's GP.
2013/08/28
– Added bye weeks (for JB) and games played (for TB)
– Added Projection change. Shows a green or red icon (in Excel 2010+) based on the change from the last update (Aug16)
– Updated all Projections
– Added a Points Per Game (PPG) calculation for last year's stats for you injury hounds
– This will be the last update other than minor bug fixes. I've left out a few borderline players like LaRod Stephens-Howlings because you just shouldn't draft him. Actually, it's because Yahoo changed their stats page for the worse (not to mention the black background), so it takes time and the long weekend is coming up 🙂
2013/08/16
– Updated Yahoo! Projection Stats & Rankings -thx Rob!
– Fixed player hyperlinks and removed some unavailable players from projections.
2013/08/14
– Updated all three Projection rankings
– Updated with 2013 Schedule & bye weeks
2013/08/07
– Updated with 2 more projections: Draft Expert Consensus Standard Scoring & PPR. Thanks, Stephen B.
2013/08/02
– Updated with 2013 NFL projected stats and actuals, with links to Yahoo! player profiles.
– Archived 2012 NFL stats spreadsheet.
2012/08/16
– Rankings / Projections updated, re-sorted by this rank. Fantasy irrelevant players removed.
2012/08/20
– Updated player notes w/ RB handcuffs.
2012/08/17
– Fixed sort filter.
2012/08/16
– Initial release.